I come by GPS logging with a smartphone, but there is the problem of the durability of the battery recently, too. That reminds me I dragged it and used it because I thought that I bought a GPS logger in old days.
From a GPS logger to mac(OS:Sierra)
A target logger: HOLUX M-241
A target PC: mac (as for the OS Sierra))
I carried out the connection by USB. Probably I think even Bluetooth to have possibilities to be good without a problem.
Manual

1: I

nstallation of

a

driver
At first it is necessary to install a driver to recognize HOLUX M-241 with a PC. Because there is it in the site as follows, at first the driver to install, please jump.
CP210x USB to UART Bridge VCP Drivers

Then, let's install a driver for mac.
If downloading is completed, I defrost a zip file, and, please carry out pkg file.
That is all for the installation of the driver.
Manual 2: Installation of software
Then, let's install application to download GPS data. Please download the software from the following pages. The thing which oneself dropped was Ver7.0.1.

Let's click "DOWNLOAD" button and download software if you go to the site, and, please install it.
Manual 3: Soft setting guide and how to use
The explanation of one one leaves it out, but sets it like the following screen. It is completion if I push the Import button of the lower right!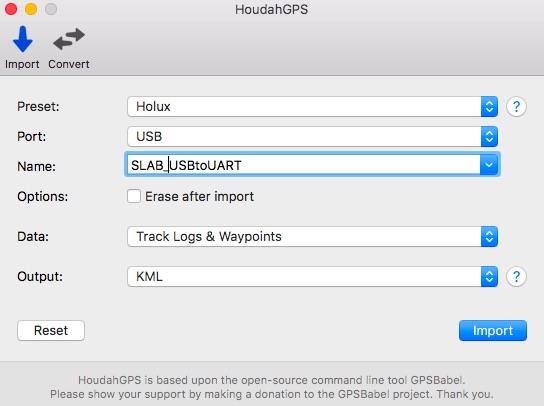 By the way, the preservation form assumed it KML file.
Open the kml file in mac
I can enjoy Google Earth very much if free and am recommended. How to open kml files only double-clicks a file, too.